Security and Access for Maryland Businesses
If you think an Access Control System for your Baltimore Metro Business or Commercial Property is too elaborate or would consume allot of your time, then think again. If you want increased security over who enters the building such as pesky sales person, strangers needing directions or anyone off the street then controlling entry points is the most effective way to prevent the entry of unauthorized persons. This can be done simply with a Keypad, Intercom or Stand Alone Access Reader installed with a electric lock.
If you want to increase the safety and security of your business premises, there is a wide range of advanced access control products. A more advance Access Control System using software allows you to control WHO goes WHERE and WHEN with in and around your business. Schedules can be programmed to automatically lock/unlock specific entry/exit doors or commonly traveled areas throughout the building.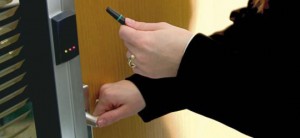 The use of electronically controlled locks ensure restricted entry. Those who are authorized to enter the premises will need to use access cards, codes or their finger to gain entry through the door. Such an Access Control System is a must at sensitive locations or areas that demand high security such as Server Room, Human Resources, Medical Files and Inventory.
An Access Control System with other security systems like Video Surveillance, Video/Intercom Systems, and Intrusion Alarms together minimize the possibility of internal or external theft in your business premises, thus giving insurance of minimizing any loss to the business operations.
 Integrated Access Control System will allow you to present a card to a reader, unlock the door, electronically disengage the alarm system and take a picture of person gaining entry. Integrating these systems is an option for convenience purposes but each customer can tailor a system to suit their needs or security requirements.
Evaluating which type of Access Control System and Security Systems would be best for the security and safety of your business is very important. Factors you need to consider is the size and nature of the business along with your budget will determine what is the best system for your needs. Selecting the right security provider is an essential component in tailoring the right system for your needs. Also, it is advisable to choose an expandable system, as it would allow you to add doors and users as your business grows.
Contact Jack Lucas at 410-663-9779 for more information about the various types of security for your business.