As a  Owner/Operator of a Commercial Building or Business, dealing with keys can often be a messy affair. Card Access Control System can give you everything you need and a whole lot more. Keys can be easily duplicated,  do not restrict anyone from entering the building any time they want as well as who is really entering the facility. Managing who has keys to what doors can be difficult if there isn't a Master Key System set up and maintained and getting keys back can be a nightmare especially if they are duplicated, then it is pointless in getting key back.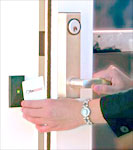 There is a service charge to have the locks change when you could do it yourself by deleting  card through the system software with a couple of key strokes on the computer.
Why go through all that hassle? While retina scanners and fingerprint readers are nice they are not ideal for the Main Entrance of the building. The most cost effective way to control the doors to your facility is a proximity Card Access System. The benefits of using this kind of security system are major and include:
– Risk reduction – With a Proximity Card Access System you can limit the times and the people who have access to your  any door. Unauthorized persons have no way of gaining entry into specific areas.
– Sense of security: visitors are prohibited from certain areas. This gives employees more tranquility at work, because there are fewer distractions and disruptions.
– Keep track of employees: Proximity Card Access System allow you to know where and when employees access certain areas. In case of an emergency, you can easily count employees because you know where everyone is.
– Identification, etc: Using Proximity Card Access System, you can easily identify all aspects of who has access to what areas of the facility by printing  on the cards such as color codes, photos or company logo and any other relevant information.
– Restrictions: Allowing access to certain employees at certain times can prove to be a valuable ability, especially if there are unauthorized areas of your building such as IT Server Room, Employee Files, Financial Records and Money Rooms.
– Temporary Employees: If you allow cleaners to have access to your building after hours, you can easily program them entry according to a specific schedule.
– Automation: Proximity Card Access Systems can be programmed to lock doors according to business hours. This ensures efficiency by preventing patrons from accessing your building when they aren't supposed to and  provides a safe and secure environment for employees and tenants.
– Vehicle Parking: Proximity Card Access Systems are perfect for allowing authorized persons on the lot or parking garage.

– Elevator Control: Keep from anyone getting one the elevator or control who can access what floors within the building.
 – Real Time: You can view everything occur as it happens. A benefit of this is that you can see how much time is being spent where, and also view attendance records for different areas.

Don't think that a Proximity Card Access Systems is only for a High Rise Building or Large Business because they aren't, and the average system installed today is 4 to 8 doors and these systems are module so they can start off with one door and grow as large as anyone would need.
Call Jack today at 410-663-9779 or email me at jlucas@acssec.com for a no-obligation site survey and estimate on what would be the best solution for your business or facility.
Here a fact and that is no two Security Video Surveillance Systems installed are the same regardless if the system components are from the same manufacture. Why would this be,  aren't all video cameras, video recorders, connectors, power supply and wires the same? It's obvious that there would be a difference between various types of cameras and recorders that are available today but not much thought is given to  the type of video transmission let alone the type of connectors to be used on a installation of a system.  There are so many variables involved that I would need another web site just to discuss all the different technologies and intricacies of installing a system.
Some people think it is just plug n' play and there is no difference between systems as long as there is a picture on the monitor, it's all good to them. Well if the requirement is to have a general view of an area and there is no need to detect events or indentify anything then this type of system is doing what is required and that is to offer a deterrence. The one thing I see at least once a month is I get a call from someone that got a great deal on a Video Surveillance System through a Big Box Store, Online Auction House or a Website. It is always one of three things that happen within the first few months of the system being installed by others. On playing back video the recorded video quality is so poor that you do not know what you are actually seeing. Another request is if I can clean up the video so a specific shot can identify who or what is in the video. Most common is the camera pictures starts to fade, gets static or very blurry at night. The question is what caused the problem product, wire, connector, power or installation who knows unless you get a professional to come out to see what is the problem.
The key thing here is not to knock a particular product or installation skill by others but it is to educate you to really to understand what you are trying to accomplish with a Security Video Surveillance System. Are you trying to Deter, Detect or Identify because all three have a different relation as well as a common purpose when it comes to implementing a system.  
If the goal is just to view an area just to see what is going on i.e. Back Door, Front Lobby or Parking Area then having cameras providing a general view offer a good deterrent against crimes being committed. When greater detail is required to see specific activity or capture certain events then a  Higher Resolution Cameras with a Variable Focal Lens should be used with a Digital Recorder that records at a faster frame rate on to provide detection where needed.
Now for the applications where the need is to indentify i.e. Cash Transactions, License Plates or a People then there are specific cameras required to capture this information such as High Definition Cameras. These cameras are great for providing detailed information while being recorded on a Network Video Recorder (NVR) with a substantial size hard drive so allot of video information can be recorded.
As you can see no two systems are alike and most application are not trying to do just one thing but they are trying to Deter, Detect and Identify  with a specific discipline based on the type of camera used for each application. This where a professional comes in to help determine what the expectation is and how best to accomplish what you want without an over kill system or a System that under performs. ACS Security Systems, Inc. has been designing, installing and servicing Security Video Surveillance Systems  for over 20 years and we invite you to give us a call to help educate, survey and price a system that really meets your needs.
I bet you thought that getting an alarm system for your business or facility would solve all your worries about ever becoming a victim of crime. Then all of a sudden you are faced with false alarms, fines, user error problems, keypad that only provides a stupid zone light, and the service tech takes days not hours to come out to your site.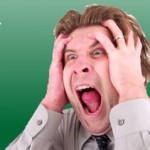 Now the issue gets worse trying to deal with a alarm operator that has no clue where the State of Maryland is located and let alone where you are within the state.  Plus the monitoring fees have escalated over $300.00 per year with the long term contract and the alarm system is only activated about half the time or not at all. Well at least you have the alarm stickers on the building that might offer some deterrence. Hmm, what started out as a solution became problem and I am sure your job is not suppose to be the full time security guy? Also, FBI reports show that most crimes committed come from internal sources such as employee, vendor, contractor, friend of a friend or visitor and rarely from a perfect stranger off the street.
Well let us look at a few things here. First of all it is an alarm system which is only suppose to report alarms that most people hope they never experience. Second, most local jurisdictions are cracking down on false alarms by fining people or not responding as quickly to repeat offenders. Third, what most people expect and need is some type of Security System not just an passive alarm system.  
To help explain the differences between the two we offer a Free Security Systems Report that will provide you help and more detail with the issues listed above. This may be the most important piece of information that you read about providing real solution to securing your facility regardless if it's a Multi-Level Building, Independent Business, Retail Store, Place of Worship, Factory or Warehouse.
 Contact us right now for your Free Report "Alarm or Security Systems".
Installing video surveillance cameras is becoming a better way to secure your business or organization so you know what is really happening at the present time or what events actually occurred. This all can be done on site or from anywhere in the world with an high speed internet connection.
According to most police agencies a video surveillance system is a major deterrent against crime. When a potential offender sees that you have security cameras they fear of being seen or recorded for prosecution purposes, they usually abandon any idea of conducting a crime or move on to someplace else with less security. The information captured on a Digital Video Recorder is most beneficial to the police so that they can pinpoint where and when a specific event actually took place.
This technology not only helps the police but even in matters where there is no crime committed it allows owners and managers to get true information about what is taking place when they might not be at the site in question. Ever wonder how employees conduct themselves, are customers being treated properly and who is actually visiting the facility.

Before implementing a video surveillance system there are a few things you will need to consider.

• What are the expectations? Will the system be used for general surveillance, Identification, to deter and detect thefts,   observation of certain areas or processes?

• Which area needs attention? Define the place or process such as entrances, employees, customers, cash register, machine operators or parking.

• Where is the object of security concern located: indoor or outdoor, far or near?

• What are the prevailing lighting conditions at such locations?

• How long do you need to capture, view, record and store images for observation and reference?
ACS Security offers a complete free site survey to help determine what is the best solution for your areas of concern. We even offer a no-obligation "try it before you buy it demo" that means we will come to your site and install a camera, monitor, digital video recorder and software and allow you to play around with the system at your leisure for a few days.
"Don't wait until something happens call us right now before that something actually does happen."
Contact Jack Lucas at 410-663-9779 or 410-557-6006.
I get asked a lot from various companies and organizations in the Baltimore Metro Area, "Is there a simple security solution to keep people from just walking through the door"? The simple answer is just lock your doors but that becomes unproductive and not a very secure method. Who knows who could be walking through the door, it could be a legitimate visitor, customer, delivery person or a fellow employee and you don't want to give out the impression that you are in a unsafe part of town. Plus someone could be waiting a long time outside and become pretty upset. This also means somebody has to go to the door every time to see who is there and that would get old quick.
You never know this could be a pesky salesperson trying to sell some of those really nice wall hangings they have in the trunk of their car. Worst it could be someone or a group of people that you don't even want close to your door but they are either walking in or giving who ever answers the door trouble from the very start. The real simple solution is to have a Security Video/Intercom System with electric lock release.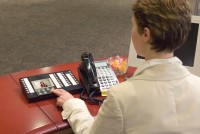 When a visitor, customer, delivery person or employee comes to the door they can simply push a button and the person on the inside can communicate verbally as well as see who it is at the door. The Door Station has a Video Surveillance Camera built so most people don't realize you can see them. A Security Video/Intercom System is great way to allow staff to communicate with anyone that they feel does not need to come into the facility without being fearful or rude.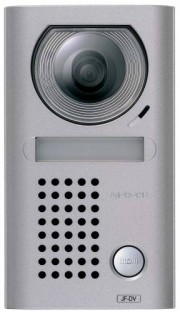 Now just don't think about the Main Entrance Door how about if there is a door far away like in a warehouse, back office or on a different level. Then just add another Door Security Station and allow one person or multiple people to control access into the building. The Security Video/Intercom System works well to control access and is modular so the possibilities are endless when it comes to providing security for your facility.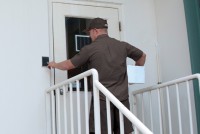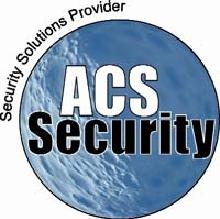 As a Maryland security systems expert, I'm ofter asked how do I find a reputable security systems company in the Baltimore area. When you are looking for a home security system, you may neglect to think about the best security company to meet your needs.  You should consider the security company you use to be a very important component of meeting your security needs.  This is the company that will be the backbone of your security system and the way they respond to your security needs will be what makes your security system a good one or not.
The basics of a security system meant that once the alarm is activated the security firm will either send a security guard to investigate the situation or the police will be called out to handle the disturbance.  How effective or smoothly this goes will depend upon the security company you have.  If you have a security company that will move quickly, then it is much more likely that this will be a fast response time.
There are a lot of security companies that offer these products and services to protect the home. Each security company has different ways to help protect their customers with different devices, such as intrusion detection, video surveillance, and fire or smoke detection. The costs involved will cover the hardware, installation fee, and the on-going monthly services charges.  The cost of maintaining the system is included in the monthly charges as well.
In order to make the wisest decision when it comes to getting your security system, you should try to research several of the best home security companies. Look into the background of a company, how the company performs, the quality of the security hardware, and the customer service.
When you take the time to do your research on all of this, you will be much better off and also much more informed to making the correct decision when it comes to your getting the best security system to meet your needs.
If you're looking for a Maryland security systems company to help secure your Baltimore are business  surronding area facility or building please pick up the phone and give us a call at 410-557-6006 or send an email to jlucas@acssec.com.
Video Surveillance
· Would you like to be at your business when you are not?
· Want to know how your employees conduct themselves while on company property?
· Tired of relying on 2nd hand information ?
· Are you interested in reducing risk of liability claims?
· Can you identify between employees and visitors?
Access Control
· Is your building security still a lock and key?
· Do you know everyone that has keys to your building?
· Would you like to know who and when someone enters the building?
· Can a person that is knocking at the door be identified?
· Are you interested in keeping certain areas controlled so only specific personnel can enter these areas?
· Would you like to have your doors be able to lock and unlock on a time schedule?
Intrusion Detection/Alarms
·  Would you like to know all the latest in security technology?
· Is your current alarm system more than five years old?
· Are you paying more than $300.00 per year for monitoring?
· Do you have remote access to arm or disarm your system?
· Can your current system send text messages and alerts?
· Are you experiencing more than 10 false alarms a year?
Critical Condition Monitoring
· Would you like to save money and protect your building and equipment from water damage, unstable temperatures, excessive heat and smoke damage?
Flexible terms and payment options are available to your customers so they can get the equipment they need. A one-page application and speedy process make it simple for you to apply. Call ACS SECURITY SYSTEM of MARYLAND to take advantage of our financing options. It doesn't matter if you need Digital CCTV System, IP Cameras, Access Control System, Alarm System, Monitoring and Intercom/Pagining all at once because we can help you in more ways than one.
Standard Lease Plans
Fair Market Value – This plan offers the most options both during and at the end of the lease term for those worried about obsolescence or wanting a small security deposit and a relatively low monthly payment. At the end of the lease term, you have three options: extend the term of the lease, return the equipment, or buy it at its fair market value. Marlin also offers financing for those wishing to buy the equipment at the end of the lease term. A True Lease allows the most cost to be deferred to the end of the lease when a decision to retain or upgrade the equipment can be made.
10% Security Deposit – Because this program offers the lowest monthly payment, it is especially attractive to those who can afford to pay a 10% security deposit of the lease amount at the beginning of the lease. End-of-lease options still apply. Use the deposit to extend the lease or return the equipment and request the refunded deposit.
10% Purchase Option – This plan offers the customer a fixed purchase option at the end of the lease term. Upon final payment, the customer can continue to lease the equipment, return the equipment, or buy it at 10% of the original equipment cost.
$1.00 Buy Out – For those who are fairly certain they wish to purchase the equipment at the end of the lease term, this is the recommended plan. Once the lease term expires, the equipment is simply purchased for $1.00.