Columbia, Maryland Security Systems installation. Interesting service calls this week because of Hurricane Irene blew into town and knocked power out all over the place. One service call was in Columbia, Maryland off Snowden River Parkway because the customer doors were not locking and had caused a few false alarms which they are being fined for by Howard County. They tried to call the company that installed the system but couldn't get a response so they end up calling us to see if we could help.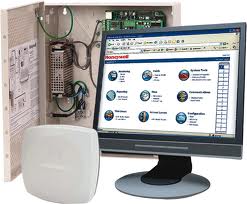 Upon arrival we discovered that there was now battery back up on the electric door locks so their office was wide open over the weekend, not good. We started by just putting in a fresh set of batteries for proper lock power that any access control system should have. We also discovered that the Card Access System they use to get through these doors was not accepting their cards or unlocking the doors. A power surge rendered the main system control board useless and was not even able to be defaulted.
After talking to the customer about their system and how they used it we provided them with a simple inexpensive solution with a Web Based Card Access System that does not need a dedicated computer to run the system software, it allows remote management to add or delete card users and has a very user friendly system management interface. We got everything back up and working within a day and yes everything was installed with a battery back up and surge protection to secure their office in the future.
For more information about Web Based Access Control Systems please contact us as we are always around the Baltimore/Washington  area servicing and installing security systems.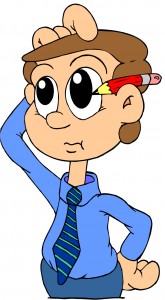 When it comes securing your Baltimore, Maryland Area Business especially for smaller businesses it hard not to be tempted to save money with Do It Yourself (DIY) security systems. The question is are you really saving money or just being penny wise and dollar dumb? You are not alone because every business owner or manager is trying cut cost while trying to manage their business so using a well designed security system can help you achieve control and reduce loss within your business. The right solution can offer the ability to control your work environment , view activity, provide a deterrent and protect against losses.
Allot of people are enticed to purchase their security equipment through a Big Box Store Wholesaler or over the Internet because the equipment is cheaper than getting it from a Security Professional but that is not really true because there are a whole host of unseen cost in DIY Security as well as missed protection.  Let me ask you this would you do your own business taxes, repair your own car or self diagnose your own health aliment? If so you are better person than most.
There is a report that list some of the things that people don't think about or need to look out for when providing security for their business. Get the "Security Report: DIY vs. Security Professional"  emailed to you with no-obligation so you can become a more informed and make better decision when it comes to pursuing a Security System for your Baltimore Metro Business.
There are many reasons to get a electronic security system and one of the most common reasons is to protect your assets. Let's face it if your business has product, inventory, equipment, or money in your business then you have what someone else wants and you need to protect it.
Crime cost Maryland Businesses in the millions of dollars each year. It has a particularly damaging effect on companies that can lose both customers and employees after a wave of crime. This effect isolates them and increases their vulnerability to crime. There are ways that businesses can fight back and prevent crimes from occurring.
• Train all employees full time and part time including the cleaning staff- so they are familiar with security procedures and know your expectations.
• Keep detailed, up-to-date records. Store back-up copies off the premises. If you are ever victimized, you can access losses more easily and provide useful information for law enforcement investigations.
• Mark all equipment, including computers and cash registers, with an identification number (tax ID or license). Take pictures of all the equipment and keep a record of all identification numbers off the premises with other important records.
• Windows should have secure locks and remove all expensive items from your window displays at night and make sure you can see easily into your business after closing. Move valuable merchandise away from the door and windows to prevent "smash and grab" thefts.
• Check the parking lot for good lighting and unobstructed views.
• Light the inside and outside of your business, especially around doors, windows, skylights, or other entry points. Consider installing covers over exterior lights and power sources to deter tampering.
• Install locks on Dumpsters to prevent unauthorized trash dumping, a hiding place and keep your trash from being pick through for those looking for any type information.
• Make sure that your entire sales floor can be easily viewed. Eliminate any blind spots that may hide a robbery in progress. Keep displays neat, and place small and valuable objects in cabinets. Ensure that your staff is familiar with all of the merchandise in the store.
• Make bank deposits often and during business hours. Do not establish a regular pattern. Take different routes at different times during the day.
• Think before talking about the details of your job or working on sensitive projects in public places such as restaurants, airplanes, classrooms, and gyms.
• Think about what is on a piece of paper before you toss it into the trash. If it is sensitive information, tear it up or use a shredder.
• Challenge any strangers who enter your work area. Ask for identification. Call a supervisor or security for help.
• After hours, do not work late alone. Create a buddy system for walking to parking lots or public transportation or ask security to escort you.
• If a thief confronts you or your employees, cooperate. Merchandise and cash can always be replaced- people can't!
Most businesses have some type of security from a simple lock and key to a basic alarm system but has your business been exposed to Internal Theft, Fraud, Workers Compensation Claims, Production Losses, Burglary, Vandalism, Time Theft, Work Place Violence or any other threat to your bottom line. Security technology provides a wide range of benefits and applications especially to the corporate bottom line. A well-planned security application for a business can provide a significant return on investment and should not be seen as an expense or drain. Here's a list of just a few benefit's a security system can provide. Be sure to contact ACS Security Systems to set up you free no obligation Security Evaluation or email us for free Business Continuity Guideline
What can a well planned security system do for your bottom line?
1. Protect against internal and external theft.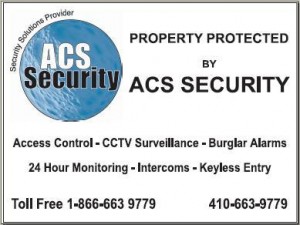 2. Offer avenues to reach and reduce employee time theft as well as business shrinkage
3. Lower insurance premiums by minimize risk and loss due to accidents.
4. Automated tools for tracking people, places and materials.
5. Receive data and images for measuring business activities such as production and materials.
6. Identify and control access to the facility.
7. Real time and remote status of business operations as they occur.
8. Integrate of physical access control and logical database access.
9. Activity log of events to provide actual information as it occurred.
10. Security can provide a greater feeling of comfort for customers.