As a  Owner/Operator of a Commercial Building or Business, dealing with keys can often be a messy affair. Card Access Control System can give you everything you need and a whole lot more. Keys can be easily duplicated,  do not restrict anyone from entering the building any time they want as well as who is really entering the facility. Managing who has keys to what doors can be difficult if there isn't a Master Key System set up and maintained and getting keys back can be a nightmare especially if they are duplicated, then it is pointless in getting key back.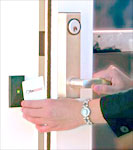 There is a service charge to have the locks change when you could do it yourself by deleting  card through the system software with a couple of key strokes on the computer.
Why go through all that hassle? While retina scanners and fingerprint readers are nice they are not ideal for the Main Entrance of the building. The most cost effective way to control the doors to your facility is a proximity Card Access System. The benefits of using this kind of security system are major and include:
– Risk reduction – With a Proximity Card Access System you can limit the times and the people who have access to your  any door. Unauthorized persons have no way of gaining entry into specific areas.
– Sense of security: visitors are prohibited from certain areas. This gives employees more tranquility at work, because there are fewer distractions and disruptions.
– Keep track of employees: Proximity Card Access System allow you to know where and when employees access certain areas. In case of an emergency, you can easily count employees because you know where everyone is.
– Identification, etc: Using Proximity Card Access System, you can easily identify all aspects of who has access to what areas of the facility by printing  on the cards such as color codes, photos or company logo and any other relevant information.
– Restrictions: Allowing access to certain employees at certain times can prove to be a valuable ability, especially if there are unauthorized areas of your building such as IT Server Room, Employee Files, Financial Records and Money Rooms.
– Temporary Employees: If you allow cleaners to have access to your building after hours, you can easily program them entry according to a specific schedule.
– Automation: Proximity Card Access Systems can be programmed to lock doors according to business hours. This ensures efficiency by preventing patrons from accessing your building when they aren't supposed to and  provides a safe and secure environment for employees and tenants.
– Vehicle Parking: Proximity Card Access Systems are perfect for allowing authorized persons on the lot or parking garage.

– Elevator Control: Keep from anyone getting one the elevator or control who can access what floors within the building.
 – Real Time: You can view everything occur as it happens. A benefit of this is that you can see how much time is being spent where, and also view attendance records for different areas.

Don't think that a Proximity Card Access Systems is only for a High Rise Building or Large Business because they aren't, and the average system installed today is 4 to 8 doors and these systems are module so they can start off with one door and grow as large as anyone would need.
Call Jack today at 410-663-9779 or email me at jlucas@acssec.com for a no-obligation site survey and estimate on what would be the best solution for your business or facility.