Most businesses have some type of security from a simple lock and key to a basic alarm system but has your business been exposed to Internal Theft, Fraud, Workers Compensation Claims, Production Losses, Burglary, Vandalism, Time Theft, Work Place Violence or any other threat to your bottom line. Security technology provides a wide range of benefits and applications especially to the corporate bottom line. A well-planned security application for a business can provide a significant return on investment and should not be seen as an expense or drain. Here's a list of just a few benefit's a security system can provide. Be sure to contact ACS Security Systems to set up you free no obligation Security Evaluation or email us for free Business Continuity Guideline
What can a well planned security system do for your bottom line?
1. Protect against internal and external theft.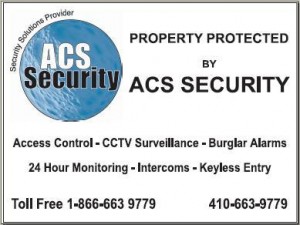 2. Offer avenues to reach and reduce employee time theft as well as business shrinkage
3. Lower insurance premiums by minimize risk and loss due to accidents.
4. Automated tools for tracking people, places and materials.
5. Receive data and images for measuring business activities such as production and materials.
6. Identify and control access to the facility.
7. Real time and remote status of business operations as they occur.
8. Integrate of physical access control and logical database access.
9. Activity log of events to provide actual information as it occurred.
10. Security can provide a greater feeling of comfort for customers.